Here is a list of upcoming books that I am really excited about:

The Beauty of Darkness by Mary E. Pearson (August 2016 – Henry Holt)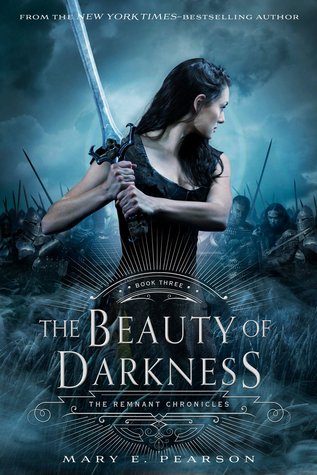 "Lia and Rafe have escaped Venda and the path before them is winding and dangerous – what will happen now? This third and final book in The Remnant Chronicles is not to be missed.
Bestselling author Mary E. Pearson's combination of intrigue, suspense, romance and action make this a riveting page turner for teens." Goodreads | Amazon | Book Depository
You Before Anyone Else by Julie Cross & Mark Perini (August 2016 – Sourcebooks Fire)
"Model Finley needs someone to help her shed her "good girl" persona, so she'll try Eddie on for size.
New York City model Finley is fed up with hearing the same feedback at castings: she needs to take some serious action to wipe the "good girl" stamp from her resume if she wants to launch to stardom.
Enter Eddie Wells. He's shallow, predictable…and just as lost as Finley feels. Deep down, Finley is drawn to Eddie's bravado, his intensity. Except Eddie is hiding something. A big something. And when it surfaces, both loving and leaving Finley will become so much harder." Goodreads | Amazon | Book Depository
Empire of Storms by Sarah J. Maas (September 2016 – Bloomsbury)
"The long path to the throne has only just begun for Aelin Galathynius. Loyalties have been broken and bought, friends have been lost and gained, and those who possess magic find themselves at odds with those who don't.
As the kingdoms of Erilea fracture around her, enemies must become allies if Aelin is to keep those she loves from falling to the dark forces poised to claim her world. With war looming on all horizons, the only chance for salvation lies in a desperate quest that may mark the end of everything Aelin holds dear.
Aelin's journey from assassin to queen has entranced millions across the globe, and this fifth installment will leave fans breathless. Will Aelin succeed in keeping her world from splintering, or will it all come crashing down?" Goodreads | Amazon | Book Depository
Strange the Dreamer by Laini Taylor (September 2016 – Little Brown)
"Strange the Dreamer is the story of:
the aftermath of a war between gods and men
a mysterious city stripped of its name
a mythic hero with blood on his hands
a young librarian with a singular dream
a girl every bit as perilous as she is imperiled
alchemy and blood candy, nightmares and godspawn, moths and monsters, friendship and treachery, love and carnage.
Welcome to Weep." Goodreads | Amazon | Book Depository
Crooked Kingdom by Leigh Bardugo (September 2016 – Henry Holt)
"Kaz Brekker and his crew have just pulled off a heist so daring even they didn't think they'd survive. But instead of divvying up a fat reward, they're right back to fighting for their lives. Double-crossed and left crippled by the kidnapping of a valuable team member, the crew is low on resources, allies, and hope. As powerful forces from around the world descend on Ketterdam to root out the secrets of the dangerous drug known as jurda parem, old rivals and new enemies emerge to challenge Kaz's cunning and test the team's fragile loyalties. A war will be waged on the city's dark and twisting streets―a battle for revenge and redemption that will decide the fate of magic in the Grisha world." Goodreads | Amazon | Book Depository
Frost Like Night by Sara Raasch (September 2016 – Balzer + Bray)
"Angra is alive, his Decay is spreading—and no one is safe.
Meira will do anything to save her world. With Angra trying to break through her mental defenses, she desperately needs to learn to control her own magic—so when the leader of a mysterious Order from Paisly offers to teach her, she jumps at the chance. But the true solution to stopping the Decay lies in a labyrinth deep beneath the Season Kingdoms. To defeat Angra, Meira will have to enter the labyrinth, destroy the very magic she's learning to control—and make the biggest sacrifice of all.
Mather will do anything to save his queen. He needs to rally the Children of the Thaw, find Meira—and finally tell her how he really feels. But with a plan of attack that leaves no kingdom unscathed and a major betrayal within their ranks, winning the war—and protecting Meira—slips farther and farther out of reach.
Ceridwen will do anything to save her people. Angra had her brother killed, stole her kingdom, and made her a prisoner. But when she's freed by an unexpected ally who reveals a shocking truth behind Summer's slave trade, Ceridwen must take action to save her true love and her kingdom, even if it costs her what little she has left.
As Angra unleashes the Decay on the world, Meira, Mather, and Ceridwen must bring the kingdoms of Primoria together…or lose everything." Goodreads | Amazon | Book Depository
Rose & Thorn by Sarah Prineas (September 2016 – HarperTeen)
"This beauty isn't sleeping! Discover the true story of Sleeping Beauty in Sarah Prineas's bold YA fairy-tale retelling filled with thrilling adventure and romance, perfect for fans of The Lunar Chronicles and The Girl of Fire & Thorns trilogy.
After the spell protecting her is destroyed, Rose seeks safety in the world outside the valley she had called home. She's been kept hidden all her life to delay the three curses she was born with—curses that will put her into her own fairy tale and a century-long slumber. Accompanied by the handsome and mysterious Watcher, Griff, and his witty and warmhearted partner, Quirk, Rose tries to escape from the ties that bind her to her story. But will the path they take lead them to freedom, or will it bring them straight into the fairy tale they are trying to avoid?
Set in the world of Sarah Prineas's Ash & Bramble fifty years later, Rose & Thorn is a powerful retelling of the classic Sleeping Beauty tale where the characters fight to find their own Happy Ever After." Goodreads | Amazon | Book Depository
The Black Key by Amy Ewing (October 2016 – HarperTeen)
"For too long, Violet and the people of the outer circles of the Lone City have lived in service to the royalty of the Jewel. But now the secret society known as the Black Key is preparing to seize power.
And while Violet knows she is at the center of this rebellion, she has a more personal stake in it—her sister, Hazel, has been taken by the Duchess of the Lake. Now, after fighting so hard to escape the Jewel, Violet must do everything in her power to return to save not only Hazel, but the future of the Lone City." Goodreads | Amazon | Book Depository
Everyone We've Been by Sarah Everett (October 2016 – Knopf)
"For fans of Jandy Nelson and Jenny Han comes a new novel that asks, can you possibly know the person you're becoming if you don't know the person you've been?
Addison Sullivan has been in an accident. In its aftermath, she has memory lapses and starts talking to a boy that no one else can see. It gets so bad that she's worried she's going crazy.
Addie takes drastic measures to fill in the blanks and visits a shadowy medical facility that promises to "help with your memory." But at the clinic, Addie unwittingly discovers it is not her first visit. And when she presses, she finds out that she had certain memories erased. She had a boy erased.
But why? Who was that boy, and what happened that was too devastating to live with? And even if she gets the answers she's looking for, will she ever be able to feel like a whole person again?" Goodreads | Amazon | Book Depository
Off the Ice by Julie Cross (February 2017 – Simon & Schuster)
"Junior Tate Tanley hasn't made it off the bench since joining the hockey team as a freshman. But after the Otters' star goalie leaves during a huge game, Tate's got the attention of the entire town. Including Claire O'Connor, who's mysteriously back in Juniper Falls and who he hasn't seen in a year. But Tate hasn't stopped thinking about Claire or what happened the night before she left.
Claire O'Connor should be enjoying college life in the big city. Instead, she's serving drinks to handsy fishermen and taking care of her sick father back in Juniper Falls. And when she spots her best friend's little brother, Tate, playing in a big varsity game, she's thrown for a loop. Tate has grown up a lot: more muscles, more hotness, more…everything. But Claire's responsibility is to her family, and she doesn't have time for boys—especially not hockey players.
As games, parties, and town drama throw Tate and Claire together, they can't ignore what happened last fall—and they can't ignore what's brewing between them now. It's finally time for them to unravel the secrets of their past and face the future together." Goodreads | Amazon