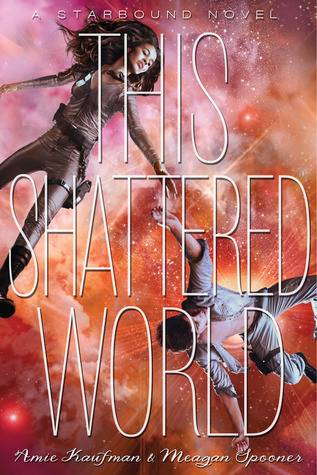 Title:

This Shattered World


Author: Amie Kaufman, Meagan Spooner
Series: Starbound #2
Publisher: Disney Hyperion
Date: December 23, 2014
Pages: 390
Format: ARC
Source: For Review

---
SYNOPSIS
The second installment in the epic Starbound trilogy introduces a new pair of star-crossed lovers on two sides of a bloody war.

Jubilee Chase and Flynn Cormac should never have met.

Lee is captain of the forces sent to Avon to crush the terraformed planet's rebellious colonists, but she has her own reasons for hating the insurgents.

Rebellion is in Flynn's blood. Terraforming corporations make their fortune by recruiting colonists to make the inhospitable planets livable, with the promise of a better life for their children. But they never fulfilled their promise on Avon, and decades later, Flynn is leading the rebellion.

Desperate for any advantage in a bloody and unrelentingly war, Flynn does the only thing that makes sense when he and Lee cross paths: he returns to base with her as prisoner. But as his fellow rebels prepare to execute this tough-talking girl with nerves of steel, Flynn makes another choice that will change him forever. He and Lee escape the rebel base together, caught between two sides of a senseless war.
---
Goodreads | Amazon.com | Barnes & Noble | Book Depository
***
After These Broken Stars (which I loved) and all of the reviews claiming that This Shattered World was even better, I had some pretty high expectations going into this novel. While I did really enjoy it, it wasn't quite as good as These Broken Stars and the two novels are just very different.
These Broken Stars was a romance at heart. Yes, there were a few paranormal/sci-fi elements thrown in, and yes you did have two people traversing a deserted planet fighting for survival, but it was really about Lilac and Tarver falling in love. Watching their relationship develop is that really made These Broken Stars so wonderful for me.
In This Shattered World, we have almost an entirely different cast of characters. There is still a love story in the novel, but it is much more understated and takes a back seat to the plot. Unfortunately, the plot wasn't my favorite part of the book. It was still good, but it was more about rebellion and untangling a nefarious plot against planet Avon. Even though I enjoyed the story, it was starting to veer a bit out of my wheelhouse.
The writing and character development, however, are truly outstanding. Kaufman and Spooner create these people that are so real, you can't help feeling for them. There were so many heart wrenching moments in this story that came alive because of the writing style and were made even more meaningful because of the connection you feel with the characters.
Even though This Shattered World didn't quite live up to my expectations and the hype, it was still a great book. If you liked These Broken Stars, you won't be disappointed with the sequel, but just know that they are very different stories despite the things they have in common.