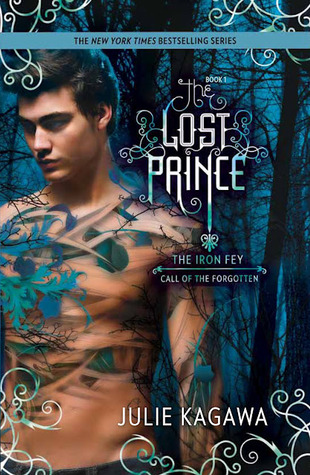 Title:

The Lost Prince


Author: Julie Kagawa
Series: The Iron Fey: Call of the Forgotten #1
Publisher: Harlequin Teen
Date: October 23, 2012
Pages: 377
Format: eARC
Source: For Review

---
SYNOPSIS
Don't look at Them.
Never let Them know
you can see Them.

That is Ethan Chase's unbreakable rule. Until the fey he avoids at all costs—including his reputation—begin to disappear, and Ethan is attacked. Now he must change the rules to protect his family. To save a girl he never thought he'd dare to fall for.

Ethan thought he had protected himself from his older sister's world—the land of Faery. His previous time in the Iron Realm left him with nothing but fear and disgust for the world Meghan Chase has made her home, a land of myth and talking cats, of magic and seductive enemies. But when destiny comes for Ethan, there is no escape from a danger long, long forgotten.

My name is Ethan Chase.
And I may not live to see my
eighteenth birthday.
---
***
I admit to being a bit skeptical about an Iron Fey spin off, and this has to be the only time that I've liked a spin off series more than the original. As much as I enjoyed all of the action & adventure of the Iron Fey, Meghan really annoyed me in the beginning and Ash was just too broody. Lost Prince has all of the best elements of the Iron Fey series without the characters that sometimes annoyed the crap out of me.
Ethan is definitely broody, but it works for him and it doesn't come across as annoying (as it did with Ash). I love that he has found Kenzie and she is able to thwart his attempts to push everyone away from him. Kieran also added a lot to the story-—he is fearless & slightly reckless. He  has all of my favorite qualities of Puck & Meghan, which made him a delight to read about.
Even better than Ethan & Kieran, however, is the combination of the two working together. Whether in the Never Never or the human realm this duo is just awesome. They both kick ass, they're very brave, & it was just one of the best character combinations I have ever read. More importantly, however, there was no love triangle. If the two ever start fighting over a girl, I will be sorely disappointed (and probably very annoyed).
I was thrilled to be back in the Never Never, and as with the original Iron Fey, we learn more about this magical land with every visit. Julie Kagawa has created something truly special with this world & that, combined with her storytelling skills, will surely make this a series that is well loved for years to come. I am truly looking forward to more adventures with Ethan & Kierran.
Sound Good? Check Out…
*Click the image for more information