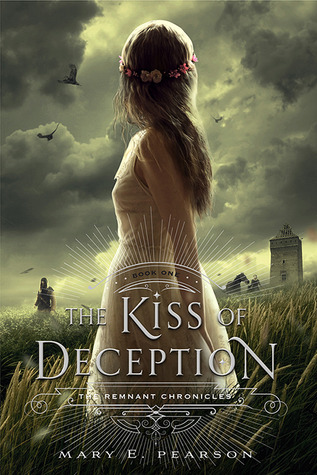 Title:

The Kiss of Deception


Author: Mary E. Pearson
Series: The Remnant Chronicles #1
Publisher: Henry Holt
Date: July 8, 2014
Pages: 492
Format: Hardcover
Source: Purchased

---
SYNOPSIS
A princess must find her place in a reborn world.

She flees on her wedding day.

She steals ancient documents from the Chancellor's secret collection.

She is pursued by bounty hunters sent by her own father.

She is Princess Lia, seventeen, First Daughter of the House of Morrighan.

The Kingdom of Morrighan is steeped in tradition and the stories of a bygone world, but some traditions Lia can't abide. Like having to marry someone she's never met to secure a political alliance.

Fed up and ready for a new life, Lia flees to a distant village on the morning of her wedding. She settles in among the common folk, intrigued when two mysterious and handsome strangers arrive—and unaware that one is the jilted prince and the other an assassin sent to kill her. Deceptions swirl and Lia finds herself on the brink of unlocking perilous secrets—secrets that may unravel her world—even as she feels herself falling in love.
---
The Kiss of Deception is one of those books that I heard about and just knew I would love. We have a defiant princess, a potential love triangle, and a cool new world to explore. There was so many aspects of the novel that I loved and I just can't wait to read the next one!
Part of the fun of The Kiss of Deception is that you know going into the novel that Lia will meet two guys: an assassin who has been sent to kill her and the prince she left at the alter. Throughout most of the novel, however, we're not actually told which guy is the assassin and which is the prince. This means we get to guess and see if we're correct, but I thought it was really easy to figure out.
The predictability did bother me a bit, but it was fun to read the book and find out if I was correct. The other aspects of the novel were all great: the romance, the world building, the touch of magic. I thoroughly enjoyed it all and ended up flying through this one!
If you like your fantasy with a healthy dose of romance, you're going to love The Kiss of Deception. It was a fantastic book that immediately left me wanting more. I am just beyond excited for the sequel!