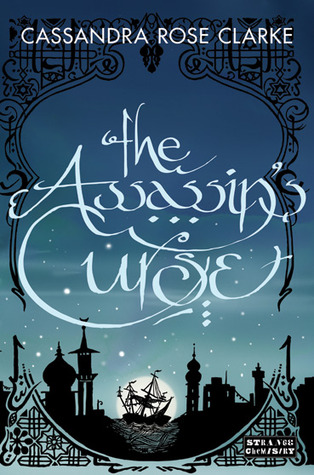 Title:

The Assassin's Curse


Author: Cassandra Rose Clark
Series: The Assassin's Curse #1
Publisher: Strange Chemistry
Date: October 2, 2012
Pages: 298
Format: ARC
Source: For Review

---
SYNOPSIS
Ananna of the Tanarau abandons ship when her parents try to marry her off to another pirate clan. But that only prompts the scorned clan to send an assassin after her. When Ananna faces him down one night, armed with magic she doesn't really know how to use, she accidentally activates a curse binding them together.

To break the spell, Ananna and the assassin must complete three impossible tasks--all while grappling with evil wizards, floating islands, haughty manticores, runaway nobility, strange magic...and the growing romantic tension between them.
---
The description for The Assasin's Curse actually reminded me of a romance novel, but it's not really that type of story. We have a strong female main character who refuses to have her decisions made for her and is always strong despite her fear. After ending up in a bad situation, which leads to an assassin trying to kill her, Ananna ends up binding the assassin to her.
After Ananna saves his life, Naji (the assassin) is bound by a curse to protect her. The two end up on a rather long journey to attempt to break the curse and form an odd friendship along the way. While it is clear that Ananna has romantic feelings for Naji, it is a bit unclear if he reciprocates the feeling.
The story itself was ok. I wasn't blown away, but I am intrigued by the ending and would like to see how the story ends. Overall, I like the characters and wouldn't mind reading more about them. Based on the description, I would have expected much more romantic tension then is actually in the book, but this could improve as the series continues. There is also quite a bit of world building that was left unexplored, but I expect we will get a deeper dive into it in the future novels.
Sound Good? Check Out…
*Click the image for more information