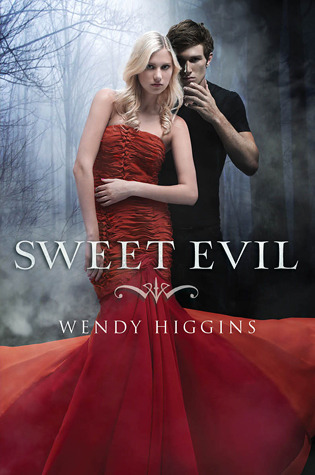 Title:

Sweet Evil


Author: Wendy Higgins
Series: The Sweet Trilogy #1
Publisher: HarperTeen
Date: May 1, 2012
Pages: 447
Format: ARC
Source: For Review

---
SYNOPSIS
Embrace the Forbidden

What if there were teens whose lives literally depended on being bad influences?

This is the reality for sons and daughters of fallen angels.
Tenderhearted Southern girl Anna Whitt was born with the sixth sense to see and feel emotions of other people. She's aware of a struggle within herself, an inexplicable pull toward danger, but it isn't until she turns sixteen and meets the alluring Kaidan Rowe that she discovers her terrifying heritage and her willpower is put to the test. He's the boy your daddy warned you about. If only someone had warned Anna.

Forced to face her destiny, will Anna embrace her halo or her horns?
---
Sweet Evil offers a unique take on angel lore because it focuses more on the demons than angels or fallen angles who regret their decisions. There are demons on earth for each sin, which really added to the plot because of the tasks that the demon offspring were supposed to perform.
Unlike other Nephilim, Anna is half angel and half demon. Because of this, she has healthy dose of good to balance out her "bad" side—which is prone to drug abuse. Despite Anna's pre-disposition to become a drug addict, she actually does not do any drugs at all. She also does not drink, lie, or do anything else that is morally questionable—she is the picture of perfect goodness. Anna's goody-good behavior actually irked me because she is half demon. At a minimum, I would expect her to have the same pre-disposition to sin as a normal human, but she is distinctly above it all. Her character really needed some edginess.
The only time Anna loosens up is around Kaiden. I absolutely loved Anna and Kaiden together—they seriously made this book for me. Their relationship was both natural and passionate. Even though they didn't necessarily get along at first, the chemistry was always there. I devoured this book because I was dying for scenes with the two of them! The romance was done incredibly well, and I can't wait to read more!
Sweet Evil was filled with an amazing forbidden love story that felt both natural and passionate. The plot was unique from other angel lore novels because it focused on demons and the seven deadly sins. Despite the focus on these more sinister aspects, Anna is too much of a good girl and could really use some edginess. The love story is what will keep you flipping the pages and begging for more Kaiden and Anna!
Sound Good? Check Out…
*Click the image for more information