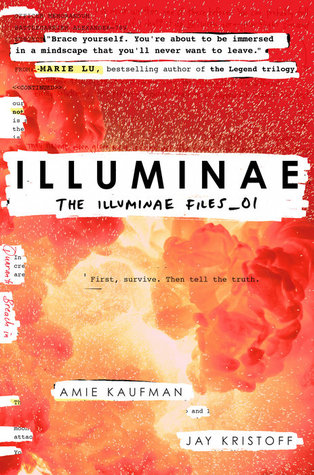 Title:

Illuminae


Author: Amie Kaufman, Jay Kristoff
Series: The Illuminae Files #1
Publisher: Knopf Books for Young Readers
Date: October 20, 2015
Pages: 599
Format: ARC
Source: For Review

---
SYNOPSIS
This morning, Kady thought breaking up with Ezra was the hardest thing she'd have to do.

This afternoon, her planet was invaded.

The year is 2575, and two rival megacorporations are at war over a planet that's little more than an ice-covered speck at the edge of the universe. Too bad nobody thought to warn the people living on it. With enemy fire raining down on them, Kady and Ezra—who are barely even talking to each other—are forced to fight their way onto an evacuating fleet, with an enemy warship in hot pursuit.

But their problems are just getting started. A deadly plague has broken out and is mutating, with terrifying results; the fleet's AI, which should be protecting them, may actually be their enemy; and nobody in charge will say what's really going on. As Kady hacks into a tangled web of data to find the truth, it's clear only one person can help her bring it all to light: the ex-boyfriend she swore she'd never speak to again.

Told through a fascinating dossier of hacked documents—including emails, schematics, military files, IMs, medical reports, interviews, and more—Illuminae is the first book in a heart-stopping, high-octane trilogy about lives interrupted, the price of truth, and the courage of everyday heroes.
---
I. Loved. This. Book.
I really did. It was so unique and awesome. We get to read a dossier about a horrific planetary attack in the future. So not my "thing," but the way the story is told is just so creative that I ended up devouring it.
The redactions and strike outs in various interviews and surveillance footage were awesome. Even though the documents are redacted, they are presented so that the reader can see what was left out. Most of the things that were taken out are really funny. Despite the entire book being about a tragedy, it was hysterical! I loved that element and it really helped alleviate some of the gravity of the situation.
The romance is great as well. Not because I believe Ezra and Kady are meant to be or that they're super fabulous together. I like it because it feels like a teen romance. And that's what it is. I'd love to say a bit more on the topic, but for fear of spoilers let's move on . . .
As much as I adored this novel, there were a few tiny things that knocked it from a 5-star novel to a 4.5. The ending wasn't mind blowing. Perhaps my expectations were too high — I'd heard quite a few people say that Illuminae gave them a book hangover — so I was expecting something really epic. I didn't get that though! The ending made sense to me. I had a feeling things would work out the way they did, so after all of the suspense and creativity of the novel the perfectly logical ending was a bit of a let down. I am excited to see how the rest of the series turns out though!
Now this next thing didn't affect my rating at all, and is really more of an observation. I loved that this was a PDF. The way they designed the page numbers at the bottom made that very clear. However, the book takes place in 2575 and I highly doubt PDFs will still exist then. Obviously as humans in 2015, we can't even fathom what might take the place of PDFs and I do agree that the way they chose to present the information works really well for today's reader. Just a thought I wanted to share 🙂
So overall, I loved Illuminae. This is the type of book I will shove into my husband's hands and beg that he reads too. It was unique, creative, and seriously awesome. Just wish the ending had more of a surprise to it!