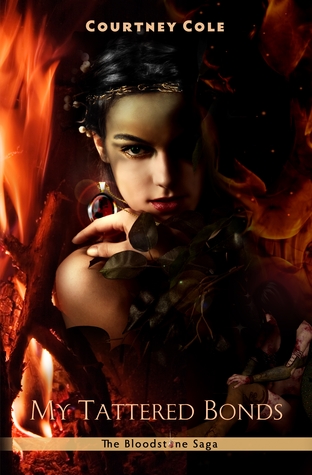 Title:

My Tattered Bonds


Author: Courtney Cole
Series: The Bloodstone Saga #4
Publisher: Lakehouse Press
Date: October 11, 2011
Pages: 217
Format: eARC
Source: For Review

---
SYNOPSIS
It is always darkest before the dawn. Harmonia has certainly found this to be true. She has faced more than any one person, goddess or mortal, should ever have to.

She has lost her soul mate time after time, lies and deceit have surrounded her and in fact, she has even been misled about her very identity. Yet she has always emerged with strength and grace. But now she will face the unthinkable. Her daughter has been taken and Harmonia will risk everything to get her back.

In this epic series finale, all will be revealed. The only question remaining is...Who will be left standing?
---
***
As much as I loved The Bloodstone Saga, the last two novels haven't really shined for me. My Tattered Bonds probably could have been a couple chapters at the end of With My Last Breath, rather than an entire novel.
The romantic tension between Harmonia & Cadmus all but disappears in My Tattered Bonds, which is one of the things I really loved about the earlier novels. The adventure also wasn't very exciting, as it was basically one long and boring trek through the Underworld.
The story of how the Olympians were banished (which we finally discover), was original but somewhat anti-climatic. I was expecting something so much more than it actually was and I was also really disappointed with the Gods attitudes once they were found. I also would have loved to see more of the Gods as well, particularly since Ares & Aphrodite don't remember much of their lives as Olympians (another area of disappoint for me).
While I was expecting a lot more from My Tattered Bonds than I got, it was nice to see how the story ended. There is no way I would have been able to skip this novel after reading the rest of The Bloodstone Saga. While I wasn't impressed, if you are already invested in the series it is worth the read.
Sound Good? Check Out…
*Click the image for more information