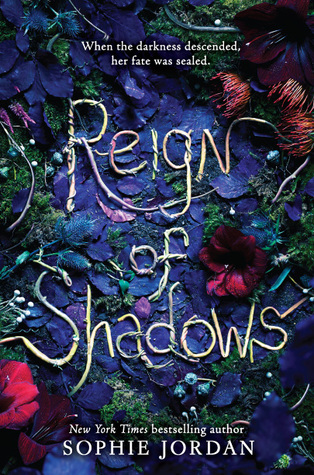 Title:

Reign of Shadows


Author: Sophie Jordan
Series: Reign of Shadows #1
Publisher: HarperTeen
Date: February 9, 2016
Pages: 304
Format: ARC
Source: For Review

---
SYNOPSIS
Seventeen years ago, an eclipse cloaked the kingdom of Relhok in perpetual darkness. In the chaos, an evil chancellor murdered the king and queen and seized their throne. Luna, Relhok's lost princess, has been hiding in a tower ever since. Luna's survival depends on the world believing she is dead.

But that doesn't stop Luna from wanting more. When she meets Fowler, a mysterious archer braving the woods outside her tower, Luna is drawn to him despite the risk. When the tower is attacked, Luna and Fowler escape together. But this world of darkness is more treacherous than Luna ever realized.

With every threat stacked against them, Luna and Fowler find solace in each other. But with secrets still unspoken between them, falling in love might be their most dangerous journey yet.

With lush writing and a star–crossed romance, Reign of Shadows is Sophie Jordan at her best.
---
Sometimes you're just in the mood for a good fantasy and I'm happy to say that's what I got with Reign of Shadows. It was fast paced and engaging with a strong set of characters and an interesting plot.
Strong characters are important to me in novels. They just make the story better. In Reign of Shadows the main character is blind, but is still able to fight and fend for herself in a very dangerous world. That's seriously impressive! Her strength (and humor) definitely added a lot to the book.
We also have a bit of a love story brewing in this one and I adored it! It was just right with the characters having the perfect balance of attraction and desire to keep away from one another. Really hoping we get some more of this in the next novel.
My one and only complaint is that I wasn't surprised. I usually don't mind too much if a book doesn't surprise me because I figured out the plot twist—especially since it happens a lot. But I really wanted to be surprised with this one. I wanted my mind to be blown and we were so close, but we didn't quite get there!
Overall, Reign of Shadows is a very strong novel and I am very much looking forward to the rest of the series! I love Sophie Jordan's work and am so pleased to have another one of her YA stories to devour.