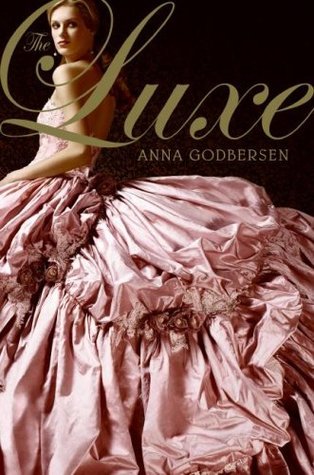 Title:

The Luxe


Author: Anna Godbersen
Series: Luxe #1
Publisher: Harper
Date: November 20, 2007
Pages: 433
Format: Hardcover
Source: Purchased

---
SYNOPSIS
Pretty girls in pretty dresses, partying until dawn. Irresistible boys with mischievous smiles and dangerous intentions. White lies, dark secrets, and scandalous hookups. This is Manhattan, 1899.
Beautiful sisters Elizabeth and Diana Holland rule Manhattan's social scene. Or so it appears. When the girls discover their status among New York City's elite is far from secure, suddenly everyone--from the backstabbing socialite Penelope Hayes, to the debonair bachelor Henry Schoonmaker, to the spiteful maid Lina Broud--threatens Elizabeth's and Diana's golden future. With the fate of the Hollands resting on her shoulders, Elizabeth must choose between family duty and true love. But when her carriage overturns near the East River, the girl whose glittering life lit up the city's gossip pages is swallowed by the rough current. As all of New York grieves, some begin to wonder whether life at the top proved too much for this ethereal beauty, or if, perhaps, someone wanted to see Manhattan's most celebrated daughter disappear... In a world of luxury and deception, where appearance matters above everything and breaking the social code means running the risk of being ostracized forever, five teenagers lead dangerously scandalous lives. This thrilling trip to the age of innocence is anything but innocent.
---
This is one of my favorite books of all time and I recommend it to everyone—I've actually made most of my friends read it because it's so wonderful. The characters are really what make The Luxe so great. I related to Diana the most because she is introverted and imaginative, but I felt all of the characters were really well developed. Elizabeth reminded me of one of my best friends, and given her actions throughout the book, I was surprised with how she made her decision between true love and familial duty at the end of the novel. I wasn't surprised at all with her ultimate decision, but I thought that she would come to that conclusion in a much different manner.
The ending of the novel was quite predictable for anyone who reads a lot or watches a lot of television. Normally, this is something I really hate, but with The Luxe I did not mind that I had the ending figured out before I had finished the prologue. Plot and character development are the two most important things to me in a novel, and I have to say again that the characters in this novel are amazing. Aside from Diana and Elizabeth, even the characters I did not like on a personal level were sympathetic at times and it was always easy to understand the motivation behind their actions.
Speaking of understanding the motivation behind a character's action, Henry Shoonmaker, the most sought after bachelor in Manhattan has a lot of morally questionable actions—but I love him. The romance in this novel is so well done. There are love triangles, societal pressures to marry someone you know is completely wrong for you, and soul mates that are forbidden from being together because of family duty. Most importantly, the love between the couples is so genuine that you become emotionally invested in these characters and their relationships. However, it was hard for me to care about anything in this novel as much as I cared about Diana's budding romance with the man she loves (I don't want to write his name and spoil it for anyone who hasn't read this amazing series yet).
Anna Godbersen's writing is beautiful and really transports you to 1899. Her descriptions made me feel like I was immersed in turn-of-the-century New York with her characters. The fact that the novel chronicles the lives of four women and the challenges they face due to a constrictive rules-oriented society reminded me of Jane Austen. Does anyone else see similarities between The Luxe and Jane Austen's work? I really hope this is turned into a movie one day because everything about it is just fabulous. If you like historical fiction, relatable characters, and romance The Luxe is simply a must-read.