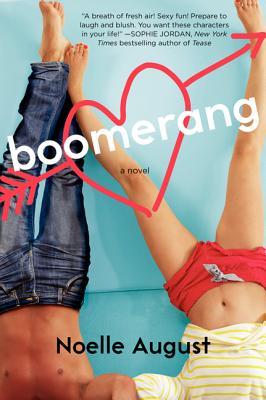 Title:

Boomerang


Author: Noelle August
Series: Boomerang #1
Publisher: William Morrow
Date: July 8, 2014
Pages: 325
Format: Paperback
Source: For Review

---
SYNOPSIS
The first book in a sensational New Adult trilogy from Noelle August

Welcome to Boomerang.com, the dating site for the millennial gen with its no-fuss, no-commitments matchups, and where work is steamier than any random hook-up

Mia Galliano is an aspiring filmmaker. Ethan Vance has just played his last game as a collegiate soccer star. They're sharp, hungry for success, and they share a secret.

Last night, Ethan and Mia met at a bar, and, well . . . one thing led to another, which led to them waking up the next morning—together. Things turned awkward in a hurry when they found themselves sharing a post hookup taxi . . . to the same place: Boomerang headquarters.

What began as a powerful connection between them is treated to a cold shower courtesy of two major complications. First, Boomerang has a strict policy against co-worker dating. And second, they're now competitors for only one job at the end of summer.

As their internships come to an end, will they manage to keep their eyes on the future and their hands off each other, or will the pull of attraction put them right back where they started?
---

Boomerang is a light, enjoyable read. It's just perfect for the beach with the easy writing style and short chapters. It's not going to leave a lasting impression, but I did get through it pretty quickly and really enjoyed the story.
Our characters, Mia and Ethan, aren't really anything special on their own. Together they're great. Lots of chemistry, the right amount of resistance, and they actually work well together too. They kind of have to work well together if we're going to believe in them as a couple given how the story is set up, but that is neither here nor there 🙂 .
Watching Mia and Ethan attempt to ignore their feelings for each other since work place romances are forbidden was great because they kind of failed spectacularly on that front! And for me, the plot really is about their attraction to each other. Sure, there are plenty of other elements in the background: Mia's grandmother, Ethan's future prospects, competing for the internship. But that's all it felt like – background.
And that is really the key thing that keeps me from loving this book. I prefer when the plot and romance are a bit more balanced when it comes to my contemporary reads, but in this case, it worked out. Not mind-blowingly awesome, but definitely a page turner.
If you're looking for a good beach read that doesn't really require a lot of attention, Boomerang is a fantastic pick! A little cheesy at times (especially with the Boomerang CEO at the end), but worth the read.