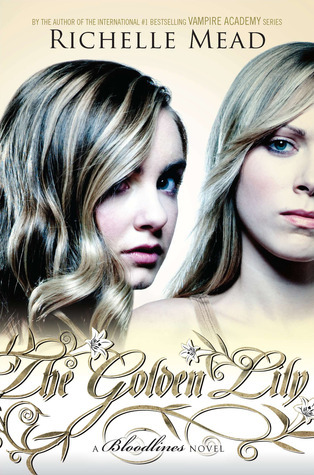 Title:

The Golden Lily


Author: Richelle Mead
Series: Bloodlines #2
Publisher: Razorbill
Date: June 12, 2012
Pages: 418
Format: Hardcover
Source: Purchased

---
SYNOPSIS
The second thrilling installment in Richelle Mead's Vampire Academy spin-off series, Bloodlines.

Tough, brainy alchemist Sydney Sage and doe-eyed Moroi princess Jill Dragomir are in hiding at a human boarding school in the sunny, glamorous world of Palm Springs, California. The students—children of the wealthy and powerful—carry on with their lives in blissful ignorance, while Sydney, Jill, Eddie, and Adrian must do everything in their power to keep their secret safe. But with forbidden romances, unexpected spirit bonds, and the threat of Strigoi moving ever closer, hiding the truth is harder than anyone thought.

Populated with new faces as well as familiar ones, Richelle Mead's breathtaking Bloodlines series explores all the friendship, romance, battles, and betrayals that made the #1 New York Times bestselling Vampire Academy series so addictive. In this second book, the drama is hotter, the romances are steamier, and the stakes are even higher.
---
***
Richelle Mead has created such an amazing world with Vampire Academy and I just can't help but devour every single one of her stories. The writing is just fantastic, the characters are wonderful, and the plot is always just right. The Golden Lily, the second installment of the Vampire Academy spin-off series Bloodlines, is just as good as Mead's previous works and has me dying to get part three (The Indigo Spell).
Sydney has never been my favorite, and having her as the main character is the only thing that has detracted from my enjoyment of this series. My problem with Sydney is that she is somewhat socially inept. This would be fine if she was just a little strange, but she is just so slow to pick up on things. As a reader, I don't like figuring things out ages before the characters, but considering how slow Sydney is, it is just impossible not to.
There are two things that make The Golden Lily shine for me: Sydney's love life and Adrian. Sydney finally starts dating, which is interesting in and of itself because she is just so different from girls her age. Adrian, of course, has a lot to say about Sydney's new romance. Adrian is just so charming and I loved every second he was in the book. He and Sydney have an interesting dynamic and I think readers will really enjoy seeing it develop in the novel.
As always, the plot reveals more behind the world of the Alchemists and the main characters continue to uncover the deepest secrets of the Alchemist/Vampire communities. Having read Vampire Academy, I strongly suspect that we are just scratching the surface of a much, much larger story.
Richelle Mead has created a wonderful sequel to Bloodlines with an outstanding cast of characters, budding romances, and a solid plot. While we do have a bit of a cliff hanger, the book still has a solid beginning, middle, and end; however, it leaves you wanting just a bit more. The Golden Lily leaves you completely satisfied, but there is just this lingering hint of sweetness that makes you want to return to the story. Luckily, it will continue with The Indigo Spell in February 2012, so the wait isn't too terribly long.
Sound Good? Check Out…
*Click the image for more information