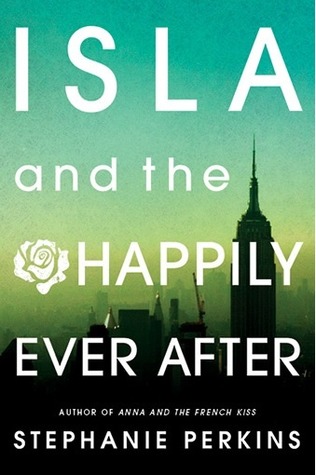 Title:

Isla and the Happily Ever After


Author: Stephanie Perkins
Series: Anna and the French Kiss #3
Publisher: Dutton
Date: August 14, 2014
Pages: 339
Format: Hardcover
Source: Purchased

---
SYNOPSIS
Love ignites in the City That Never Sleeps, but can it last?

Hopeless romantic Isla has had a crush on introspective cartoonist Josh since their first year at the School of America in Paris. And after a chance encounter in Manhattan over the summer, romance might be closer than Isla imagined. But as they begin their senior year back in France, Isla and Josh are forced to confront the challenges every young couple must face, including family drama, uncertainty about their college futures, and the very real possibility of being apart.

Featuring cameos from fan-favorites Anna, Étienne, Lola, and Cricket, this sweet and sexy story of true love—set against the stunning backdrops of New York City, Paris, and Barcelona—is a swoonworthy conclusion to Stephanie Perkins's beloved series.
---
There has been so much anticipation and hype around Isla and the Happily Ever After.While I read it very quickly and enjoyed Stephanie Perkins ability to tell a good story, I just didn't love this one as much as everyone else did.
Before you get confused by my 4-star rating, I'll start off with what I liked about it: the writing was well done, the pacing was good, the characters felt very natural, and it was very romantic at times (in a genuine, loving way — not a sexual way). I read most of this book in about a day, and didn't feel like it was dragging at any point in the story.
Moving on to the factors that deducted from the star rating. I just did not like Isla and Josh together. I felt that their relationship was not a healthy one and that they really didn't bring out the best in each other. I also disliked the Lola, Cricket, Anna, and St. Claire Cameos. For more details on exactly why these didn't work for me, check out my spoiler-filled book talk (or watch it below) .
I can't deny the appeal of Stephanie Perkins books. She sweeps you up in these whirlwind romance, and by and large, you genuinely believe in the couple's love. However, there is always something that really detracts from the story for me. In this one, I just didn't think the characters were a good match for each other. Still a great, fun, fast read, but I don't think it's quite as good as it's often made out to be.
Already read Isla and want to talk about it? Check out my spoiler-filled book talk below!