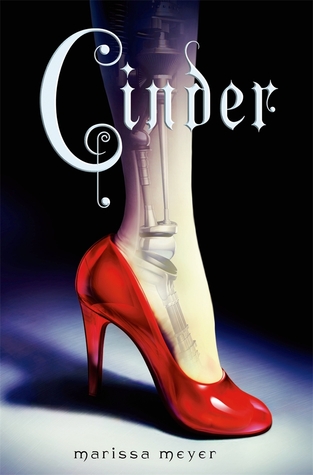 Title:

Cinder


Author: Marissa Meyer
Series: The Lunar Chronicles #1
Publisher: Feiwel and Friends
Date: January 3, 2012
Pages: 395
Format: Hardcover
Source: Purchased

---
SYNOPSIS
Humans and androids crowd the raucous streets of New Beijing. A deadly plague ravages the population. From space, a ruthless lunar people watch, waiting to make their move. No one knows that Earth's fate hinges on one girl.

Cinder, a gifted mechanic, is a cyborg. She's a second-class citizen with a mysterious past, reviled by her stepmother and blamed for her stepsister's illness. But when her life becomes intertwined with the handsome Prince Kai's, she suddenly finds herself at the center of an intergalactic struggle, and a forbidden attraction. Caught between duty and freedom, loyalty and betrayal, she must uncover secrets about her past in order to protect her world's future.
---
I put this off for so long! Cyborgs just don't sound appealing to me, and as much as I love Cinderella, I was pretty sure I was going to hate it. My desire to read it was at 0. But with so many people telling me that I had to read it and that I would adore it, I caved! End result? I really enjoyed this one.
Since I'm really not into cyborgs and science fiction isn't my top genre – what made me like this so much? Was it the Cinderella parallels? Nope. They were fine, but not amazing. Heart-stopping romance? Nope – again, fine but not amazing. Shocking ending? Nope, saw it coming.
I think it was the writing and the suspense. There was something about it that just kept me turning pages and I was very eager to see what would happen next. I can already tell that I'm going to like the inter-woven fairy tales. And the concept is one that should provide plenty of drama, action, and thrills throughout the series (I'd say more, but we'd be approaching spoiler territory).
I'm really happy I gave this one a shot and can't wait to read the other books!