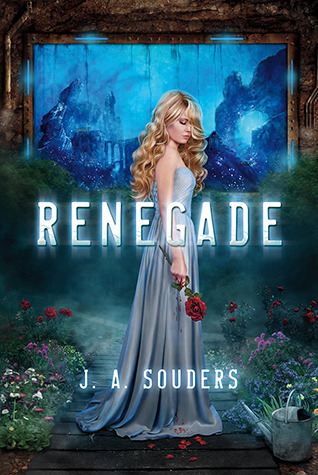 Title:

Renegade


Author: J.A. Souders
Series: The Elysium Chronicles #1
Publisher: Tor Teen
Date: November 13, 2012
Pages: 364
Format: Hardcover
Source: For Review

---
SYNOPSIS
Since the age of three, sixteen-year-old Evelyn Winters has been trained to be Daughter of the People in the underwater utopia known as Elysium. Selected from hundreds of children for her ideal genes, all her life she's thought that everything was perfect; her world. Her people. The Law.

But when Gavin Hunter, a Surface Dweller, accidentally stumbles into their secluded little world, she's forced to come to a startling realization: everything she knows is a lie.

Her memories have been altered.

Her mind and body aren't under her own control.

And the person she knows as Mother is a monster.

Together with Gavin she plans her escape, only to learn that her own mind is a ticking time bomb... and Mother has one last secret that will destroy them all.
---
***
When I first read the description of Renegade all I could think was "Dystopian Atlantis." The underwater world that Souders has created was fascinating and I loved learning about it, although I do still have questions. The plot was interesting and the characters were very well done. This is a great read for dystopian fans, but it is definitely one of the more intense dystopians on the market today.
Elysium is run by "Mother" who definitely leads with an iron fist. She controls every aspect of her subjects lives and even uses brain washing to get people to follow her wishes. As with all dystopians, day-to-day life sounds repressive & horrible. What helps Renegade stand out though, is it's unique underwater setting. Rather than an ugly/gory setting, Elysium is just beautiful. It truly sounds like an underwater paradise (aside from the overly controlling government).
Although Renegade has a good, yet typical, plot, the characters are what make the book shine. Our main character Evelyn, is tough, determined, and brave. She has a lot of depth and I just loved her defiant personality. Even in the beginning of the novel when she appears to be more of a lamb, it is clear that she has a streak of rebelliousness to her. Our male lead, Gavin, was likable, but was not one of the characters that particularly stood out to me. Mother, however, was probably one of the most memorable characters I have read about.
Mother is psychotic. As with most dystopian dictators, she is off her rocker. Most of the time, though, these dictators come across as mere sociopaths. While I don't think that Mother is a sociopath, she clearly has some severe psychological damage. I am looking forward to reading more about Mother and hopefully getting more information on what caused her psychotic break.
Souders has created a truly unique world for the typical dystopian story. While this is a more intense dystopian, it has all of the elements that are common place in the genre. That said, Souders creates a dystopian world that is more interesting than others of it's kind. I would love to see the dystopian Atlantis that Souders has created in Elysium for myself. The unique setting and fascinating cast of characters makes Renegade a must read for dystopian fans.
Sound Good? Check Out…
*Click the image for more information