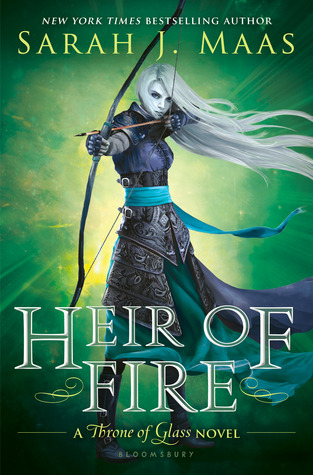 Title:

Heir of Fire


Author: Sarah J. Maas
Series: Throne of Glass #3
Publisher: Bloomsbury USA Childrens
Date: September 2, 2014
Pages: 565
Format: ARC
Source: For Review

---
SYNOPSIS
Lost and broken, Celaena Sardothien's only thought is to avenge the savage death of her dearest friend: as the King of Adarlan's Assassin, she is bound to serve this tyrant, but he will pay for what he did. Any hope Celaena has of destroying the king lies in answers to be found in Wendlyn. Sacrificing his future, Chaol, the Captain of the King's Guard, has sent Celaena there to protect her, but her darkest demons lay in that same place. If she can overcome them, she will be Adarlan's biggest threat – and his own toughest enemy.

While Celaena learns of her true destiny, and the eyes of Erilea are on Wendlyn, a brutal and beastly force is preparing to take to the skies. Will Celaena find the strength not only to win her own battles, but to fight a war that could pit her loyalties to her own people against those she has grown to love?
---
Goodreads | Amazon | Barnes & Noble | Book Depository
***
This series, you guys! I'm sure a lot of you have already started and adore the Throne of Glass series since it's extremely hyped up (and rightly so). Like Crown of Midnight, Heir of Fire started out slowly for me.
Even though I'm already attached to the characters, we meet so many new people along the way that it takes awhile to start caring about them. As much as I like character-driven novels, they tend to be much more enjoyable once you know the majority of the players.
While the beginning is character-driven, about half way through we start to get more plot-driven. At that point, we're pretty invested in the cast and we're getting a ton of action so it's a great combination! I'm not going to discuss the plot in detail here because I like to keep my reviews spoiler free, but if you've already read this one check out my book talk below for an in depth discussion on the plot twists and character romances.
All in all, Heir of Fire is a wonderful addition to the Throne of Glass series. My only complaint here is that the first half of the novel was very slow. Since I flew through the second half though, it balances out. Throne of Glass is probably my favorite book so far, but when I look at how much the story the has evolved it almost seems like a different story entirely! It's not of course, but we just have so much more information about the world that we weren't privy too originally. Definitely looking forward to the rest of Celaena's journey, although I have no idea where we'll end up!