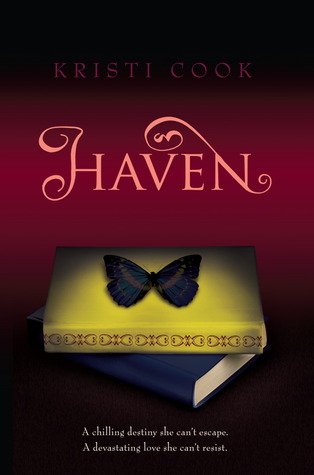 Title:

Haven


Author: Kristi Cook
Series: Winterhaven #1
Publisher: Simon Pulse
Date: February 22, 2011
Pages: 401
Format: Hardcover
Source: For Review

---
SYNOPSIS
Violet McKenna thought she was crazy when she had a vivid vision of her dad's murder—but when her premonition came true, her life fell apart. Then she found a new school: Winterhaven. There, Violet fits right in. All the students have special "gifts" like her own, and she quickly finds a close group of friends. But Violet's attraction to an alluring boy becomes problematic when intense visions of his death start to haunt her. In her premonitions, the secret he is unwilling to share begins to reveal itself—and the unbelievable becomes reality. To Violet's horror, she learns that their destinies are intertwined in a crictical—and deadly—way.
---
***
Haven just wasn't for me. I was actually really excited for it because I thought the description sounded great, but I wasn't able to connect with the characters and I thought the storyline was unoriginal. I don't like to write spoiler-ridden reviews, but in order to express why I didn't like Haven, I will have to delve in the plot quite a bit.
The first 100 pages or so of this book really captivated me. I wanted to know why Aidan was so taken with Violet. I wanted to know if they knew each other in a past life or something because Aidan was clearly drawn to her and even stated that she was part of his past. Things really started to go downhill, though, after we discover that Aidan is a vampire because this is where the book starts to feel like a retelling of Twilight without the witty banter and interesting characters. Violet is wandering down a dark alley in the city late at night. She is approached by a stranger who clearly wishes to harm her. Out of nowhere a man comes racing up to save her—it's Aidan. How did he know she was in trouble, though? Well, he can read minds. If you haven't read Twilight, this is almost exactly what happens when Edward saves Bella for the first time. Additionally, Aidan oscillates between adoring Violet and completely ignoring her—another glaring Twilight similarity.
After that scene Violet figures out that Aidan is a vampire and the two are suddenly madly in love. Personally, this bothered me a lot because I never saw the progression from flirting to love. I didn't feel the love between the characters at all. I felt attraction and lust, but I just don't believe them when they say they love each other. At this point in the novel, Violet's friendship with her classmates also begins to "deepen". Even though Violet was telling us how close she and her friends had become, I didn't actually see the progression of their relationships. I was told that they were now closer, but there were no heart-felt conversations or situations that would have drawn them closer together. Through the whole novel, I could tell that the characters were supposed to be deep and complex, but maybe because I couldn't feel the emotions shining through, I did not believe that they were very complex at all—it just felt forced to me.
Then the story incorporates elements from other very well-known plotlines, which made it feel less like a retelling of Twilight, but unoriginal nonetheless. Violet turns out to be a vampire hunter, and even refers to herself as Buffy at one point. I did not really watch "Buffy the Vampire Slayer" when it was on TV, but I felt that this plotline was clearly derived from the show. I was further annoyed by the plot when we find out that Violet looks just like Aidan's first love from centuries ago because the very same thing happened in The Vampire Diaries.
If you are looking for a book that incorporates aspects of your favorite vampire novels, you will probably really like this book—it got some great reviews on Goodreads. If you are looking for well-developed characters and an original plotline, I would look elsewhere.