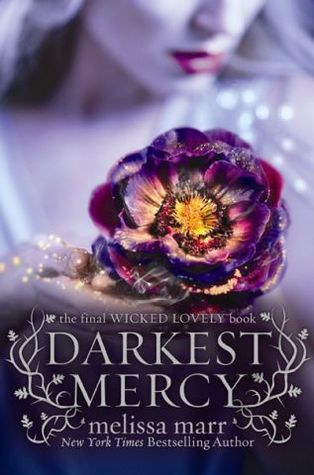 Title:

Darkest Mercy


Author: Melissa Marr
Series: Wicked Lovely #5
Publisher: Harper
Date: February 22, 2011
Pages: 327
Format: Hardcover
Source: Purchased

---
SYNOPSIS
Send the messengers for the Faery Courts. This is the end. 

The Summer King is missing; the Dark Court is bleeding; and a stranger walks the streets of Huntsdale, his presence signifying the deaths of powerful fey.

Aislinn tends to the Summer Court, searching for her absent king and yearning for Seth. Torn between his new queen and his old love, Keenan works from afar to strengthen his court against the coming war. Donia longs for fiery passion even as she coolly readies the Winter Court for battle. And Seth, sworn brother of the Dark King and heir to the High Queen, is about to make a mistake that could cost his life.

Love, despair, and betrayal ignite the Faery Courts, and in the final conflict, some will win...and some will lose everything.

The thrilling conclusion to Melissa Marr's New York Times bestselling Wicked Lovely series will leave readers breathless.
---
Kennan finally returns to Huntsdale and has to face both Ash and Don's anger at his mysterious disappearance. Bananach has gotten much stronger during Keenan's absence and is doing everything in her power to start a war between the faerie courts. The Dark Court has been severely weekend by Niall's grief over Irial's death and the Summer Court will not be at full strength unless Ash decides to give herself to Keenan and give up Seth forever. With all the turmoil and inter-court conflicts, will the faeries be able to unite forces to defeat Bananach's attempts to create war and chaos?
Melissa Marr does a great job of wrapping up the Wicked Lovely series and gives readers a very happy ending. I loved the way things turned out, BUT it almost seemed too good to be true. Even though the characters suffered during the novel, for the most part everyone had a perfect ending. I think it would have been much more realistic if some of the obstacles they faced were not so happily resolved in the end—particularly with everything relating to Keenan! Everything in this novel turned out EXACTLY the way I wanted it too, but I think that the way they got there left me feeling a little disappointed.