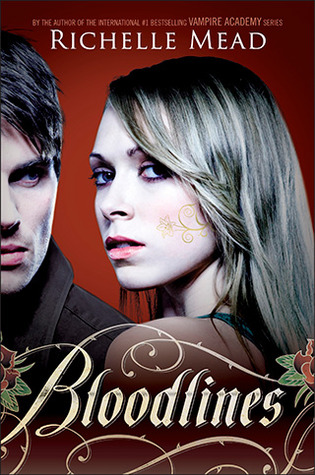 Title:

Bloodlines


Author: Richelle Mead
Series: Bloodlines #1
Publisher: Razorbill
Date: August 23, 2011
Pages: 421
Format: ARC
Source: For Review

---
SYNOPSIS
Sydney is an alchemist, one of a group of humans who dabble in magic and serve to bridge the worlds of human and vampires. They protect vampire secrets - and human lives. When Sydney is torn from her bed in the middle of the night, at first she thinks she's still being punished for her complicated alliance with dhampir Rose Hathaway. But what unfolds is far worse. Jill Dragomir - the sister of Moroi Queen Lissa Dragomir - is in mortal danger, and the Moroi must send her into hiding. To avoid a civil war, Sydney is called upon to act as Jill's guardian and protector, posing as her roommate in the last place anyone would think to look for vampire royalty - a human boarding school in Palm Springs, California. But instead of finding safety at Amberwood Prep, Sydney discovers the drama is only just beginning...
---
Fans of Vampire Academy certainly won't be disappointed with this spin-off series. Mead's writing is just as captivating as ever, which makes the book go by extremely fast. As good as Bloodlines is, I am sure the rest of the series will be even better!
Since the story is told from Sydney's perspective, I was a little frustrated since she didn't really know what was going on—which means I didn't know what was going on. When the story begins, we find out that Jill Dragomir has been attacked. While it is clear that something important happened that night, we do not find out any of the details until halfway into the book. In fact, there were many mysteries that I was trying to piece together for the first half of Bloodlines, but Sydney just didn't have any information! Readers were in a similar situation with Vampire Academy because it took Rose forever to share why she and Lissa fled St. Vladimir's Academy. While this tendency certainly keeps you intrigued, it is a bit frustrating and makes the novel move a little slower.
Based on my experience with the Vampire Academy series, I am expecting the Bloodlines series to improve with each additional novel. Given the ending of Bloodlines, I am sure things will be filled with drama and suspense in the next book—and I can't wait! A lot of the characters that have smaller parts in the Vampire Academy series play a much larger role in Bloodlines, including Jill and Sydney. I do not want to say who else makes an appearance because I think it takes a little bit of the surprise out of the novel, and for me half the fun is trying to figure everything out. I will say, though, that Adrian fans will be very pleased with Bloodlines. What exactly does that mean? I guess you'll have to read to find out!