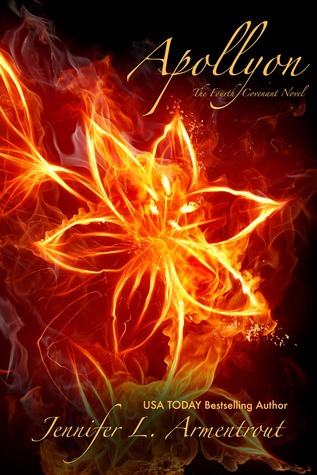 Title:

Apollyon


Author: Jennifer L. Armentrout
Series: Covenant #4
Publisher: Spencer Hill Press
Date: April 4, 2013
Pages: 343
Format: ARC
Source: For Review

---
SYNOPSIS
Fate isn't something to mess with… and now, neither is Alex.

Alex has always feared two things: losing herself in the Awakening and being placed on the Elixir. But love has always been stronger than Fate, and Aiden St. Delphi is willing to make war on the gods—and Alex herself—to bring her back.

The gods have killed thousands and could destroy entire cities in their quest to stop Seth from taking Alex's power and becoming the all-powerful God Killer. But breaking Alex's connection to Seth isn't the only problem. There are a few pesky little loopholes in the whole "an Apollyon can't be killed" theory, and the only person who might know how to stop the destruction has been dead for centuries.

Finding their way past the barriers that guard the Underworld, searching for one soul among countless millions, and then somehow returning will be hard enough. Alex might be able to keep Seth from becoming the God Killer… or she might become the God Killer herself.
---
From start to finish, Apollyon is jam-packed with action. Aiden & co. struggle to deal with Alex's transformation and determine which god is behind creating the second Apollyon to throw the world into chaos.
We don't really dive too much further into the mythology than we have already, but we do learn more about Solaris and the First and we get to meet a few new gods.
While the quest to discover the mystery god was filled with action and kept me on the edge of my seat, it was very predictable. The god was the most likely candidate from the start (in my mind, anyway), and the more hints that were dropped, the more obvious it became.
While there are far more important things than love going on in the Apollyon world, I am happy to say that romance does not take a back seat in the story. Armentrout still sprinkles a very healthy dose of sweet nothings and swoon-worthy scenes throughout the story.
Filled with action and romance, Apollyon is another captivating installment in the Half-Blood series. Armentrout has done it again, leaving readers on the edge of their seat begging for the next installment. From the fabulous cast of characters to the mythological mysteries, Apollyon is definitely a must read.
Sound Good? Check Out…
*Click the image for more information