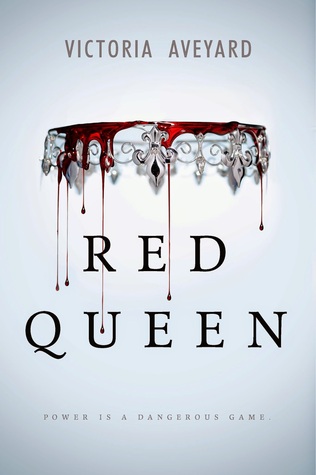 Title:

Red Queen


Author: Victoria Aveyard
Series: Red Queen #1
Publisher: HarperTeen
Date: February 10th 2015
Pages: 383
Format: Hardcover
Source: Purchased

---
SYNOPSIS
This is a world divided by blood - red or silver.

The Reds are commoners, ruled by a Silver elite in possession of god-like superpowers. And to Mare Barrow, a seventeen-year-old Red girl from the poverty-stricken Stilts, it seems like nothing will ever change.

That is, until she finds herself working in the Silver Palace. Here, surrounded by the people she hates the most, Mare discovers that, despite her red blood, she possesses a deadly power of her own. One that threatens to destroy the balance of power.

Fearful of Mare's potential, the Silvers hide her in plain view, declaring her a long-lost Silver princess, now engaged to a Silver prince. Despite knowing that one misstep would mean her death, Mare works silently to help the Red Guard, a militant resistance group, and bring down the Silver regime.

But this is a world of betrayal and lies, and Mare has entered a dangerous dance - Reds against Silvers, prince against prince, and Mare against her own heart...
---
Red Queen was very different from what I was expecting. I thought I'd be getting a high fantasy, but this felt much more dystopian/post-apocalyptic to me. Since I was really looking forward to a high fantasy at the time, I was a bit disappointed with this one.
Sure, there are people with magical powers. And yes, the countries have made up names. However, it felt like the story took place in North America after a nuclear bombing. Whether it's supposed to have that feel or not, I don't know. What I wanted out of this was a fantasy where there isn't modern technology, etc. The Red Queen world has electricity and several of the other amenities we're accustomed to, which contributed to the dystopian/post-apocalyptic feel.
While I was let down by the world building, it would be easier to get past that if the plot was flawless or if I loved the characters. I found the plot to be predictable, though, and the main character was irritating. She was naive and a know it all, which is a terrible combination. Had she been more intelligent or humble, I would have liked her a lot more. The supporting characters were fine, but none stood out as being particularly memorable.
While I certainly have my share of issues with Red Queen, I would like to continue on with the series. Maybe my opinions will change with the next novel, now that I know to expect more of a dystopian. And perhaps the main character has done enough growing up after Red Queen that she won't bother me anymore.