Waiting on Wednesday is hosted by Breaking the Spine.
For more books I'm looking forward to, check out the Upcoming page
Thriller
With Malice by Eileen Cook (June 2016 – HMH Books for Young Readers)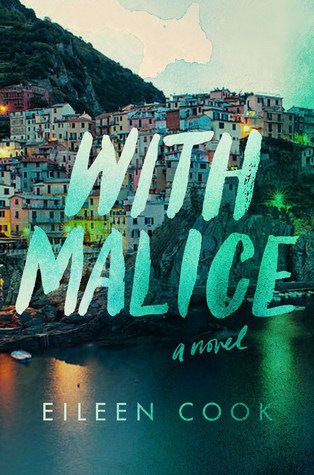 "For fans of We Were Liars and The Girl on the Train comes a chilling, addictive, compulsive read about a teenage girl who wakes up in a hospital bed and cannot remember the last six weeks of her life, including the accident that killed her best friend–only what if the accident wasn't an accident?
Eighteen-year-old Jill Charron wakes up in a hospital room, leg in a cast, stitches in her face and a big blank canvas where the last 6 weeks should be. She comes to discover she was involved in a fatal accident while on a school trip in Italy three days previous but was jetted home by her affluent father in order to receive quality care. Care that includes a lawyer. And a press team. Because maybe the accident…wasn't an accident. Wondering not just what happened but what she did, Jill tries to piece together the events of the past six weeks before she loses her thin hold on her once-perfect life." Goodreads | Amazon | Book Depository
Shiny Broken Pieces (July 2016 – HarperTeen)
"June, Bette, and Gigi have given their all to dance at Manhattan's most elite ballet school. Now they are competing one final time for a spot at the prestigious American Ballet Company. With the stakes higher than ever, these girls have everything to lose…and no one is playing nice.
June is starting to finally see herself as a prima ballerina. However, getting what she wants might cost her everything—including the only boy she's ever loved. Legacy dancer Bette is determined to clear her name after she was suspended and accused of hurting her rival, Gigi. Even if she returns, though, will she ever regain the spotlight she craves? And Gigi is not going to let Bette—or the other dancers who bullied her—go unpunished. But as revenge consumes her, Gigi may be the one who pays the price.
After years of grueling auditions, torn ribbons, and broken hearts, it all comes down to this last dance. Who will make the cut? And who will lose her dream forever?" Goodreads | Amazon | Book Depository
Fun!
The Crown (May 2016 – HarperTeen)
"Kiera Cass's #1 New York Times bestselling Selection series has captured the hearts of readers from its very first page. Now the end of the journey is here. Prepare to be swept off your feet by The Crown—the eagerly awaited, wonderfully romantic fifth and final book in the Selection series.
In The Heir, a new era dawned in the world of The Selection. Twenty years have passed since America Singer and Prince Maxon fell in love, and their daughter is the first princess to hold a Selection of her own.
Eadlyn didn't think she would find a real partner among the Selection's thirty-five suitors, let alone true love. But sometimes the heart has a way of surprising you…and now Eadlyn must make a choice that feels more difficult—and more important—than she ever expected." Goodreads | Amazon | Book Depository

I don't know quite how to categorize The Selection series, so I went with fun
Like many of you, I'm looking forward to the final installment!
We also have two psychological thrillers on this list. The first one might just be my most anticipated release of 2016: Shiny Broken Pieces. If you missed my review of Tiny Pretty Things, then just know that I absolutely LOVED this one and I think you should read it right now, if you haven't already! Seriously. Right now. You can grab a copy on Amazon
The second one, With Malice also sounds really good! I haven't read anything by Eileen Cook before, but the synopsis has "me" written all over it.
What books are you looking forward to this week?